Happy New Decade!
Pension Obligation Bonds (POBs)
Issuing Pension Obligation Bonds (POBs) was a strategy I opposed while serving at the County of Orange so I made sure they were not utilized while I was there (see MOORLACH UPDATE — State Debt — October 17, 2013 and MOORLACH UPDATE — Pension Debt — September 12, 2013).
Ironically, it was a Pension Obligation Bond issuance back in 1994 that went into default, jeopardizing the County's credit rating and was a component of the fiscal mess at that time (see 25th Anniversary Look Back below).
A Pension Obligation Bond is a method of exchanging one debt for another. It takes a debt owed to the multi-employer retirement system and converts it into a debt to bondholders. It just has to be validated by a Superior Court Judge. This is supposed to authorize what may be a dubious process.
I pursued a legal case 12 years ago based on the fact that debt owed to a defined benefit pension plan was a legitimate financial obligation. Pension Obligation Bonds are a great example of that (see MOORLACH UPDATE — POBs — February 5, 2011). Ironically, state judges are in a similar multi-employer pension system and incorrectly decided it was not debt (see MOORLACH UPDATE — Calpensions — October 15, 2012).
The idea of using POBs is not new and has been correctly identified as a major gamble in the recent past (see MOORLACH UPDATE — Memories — May 27, 2013).
When the city of Huntington Beach recently began to seriously consider using POBs, Orange County Treasurer-Tax Collector Shari Freidenrich and I were dismayed, so we submitted the included editorial to the Daily Pilot. (Huntington Beach Councilman Mike Posey was the only council member to vote in opposition.)
For more on pension concerns and POBs, see a piece I joint-authored a decade ago with noted local economist and retired Chapman University President Jim Doti at MOORLACH UPDATE — Enron-By-The-Sea — November 6, 2010.
25th Anniversary Look Back
The big stories on December 28, 1994, were my bumper sticker and my May letter to Board of Supervisors Chair Tom Riley (see MOORLACH UPDATE — LOOK BACKS — December 28, 2009). For a complete copy of my May letter to the Orange County Board of Supervisors, see MOORLACH UPDATE — Budgeting Millions of Dollars — May 31, 2019.
On December 29th, 1994, Rob Wells of the Associated Press continued his series of thorough investigations of what actually occurred in Orange County (see MOORLACH UPDATE — HAPPY NEW YEAR! — December 31, 2009). He is now a Journalism Assistant Professor at the University of Arkansas.
On December 31st, I made it to The Plain Dealer. The reporters were Timothy Heider and Joel Rutchick (see MOORLACH UPDATE — Last Day of Session — September 15, 2019). Their work was so good that I wrote a recommendation letter to the Pulitzer Prize Board. While they didn't get a Pulitzer, their investigative series on the Cuyahoga, Ohio, county treasurer's questionable investment strategy of public funds won them the 1995 Gerald Loeb Award for Distinguished Business and Financial Journalism in the large-newspaper category. It was well deserved (see MOORLACH UPDATE — OC METRO — March 1, 2010).
Their piece was titled, "Some analysts did see it coming — SAFE woes foreshadowed Orange County's collapse." If you've been reading the LOOK BACKS since the fall, you may remember my comparing Cuyahoga County to what would occur in Orange County (see MOORLACH UPDATE — SB 359 and Cuyahoga County — October 11, 2019).
The blockbuster movie "Jurassic Park" had been released in June of 1993. There is a scene where T-Rex starts to walk and the thud of his steps are seen as dramatic ripples in two clear plastic cups of water in one of the tour Jeeps. I used this as an analogy, as I could hear the "thuds" all the way from Cleveland, Ohio, in the OC (see https://www.youtube.com/watch?v=EEljXeYMxRo, unless you're too squeamish).
Here's their piece:
When Cuyahoga County's SAFE investment pool collapsed in October, John Moorlach felt the ground shaking half a continent away.

Th 39-year-old California accountant, an unsuccessful candidate for Orange County treasurer, had been sound warnings for months that that county's $20 billion investment pool was likewise a house of cards.

"I said , 'Get ready — this is the model for what's going to happen here,'" Moorlach recalled recently. "Thud. Thud."

Sure enough, just six months after the election, Orange County shut down the pool, suffering losses that already exceed $2.5 billion and forcing the county into bankruptcy. Longtime Treasurer Robert L. Citron, who had scoffed at Moorlach's charges, resigned in humiliation.

At the core of Moorlach's concern was that investment managers in Santa Ana, Calif., like Cleveland, had borrowed against existing holdings of bonds and other securities to buy additional securities, a risky practice known as leveraging. Both pools got caught short when rising interest rates increased the cost of borrowing and depressed the value of their holdings.

The costs to Cuyahoga County taxpayers — $115 million so far — pales in contrast to those in Orange County.

There are differences as well in the management of the two pools:

* Orange County officials disclosed many of their high-risk strategies, including leveraging, though federal and state regulators are investigating whether other potentially fraudulent practices were kept from investors.

SAFE's staff, by contrast, leveraged in secret, concealing relevant records from investors, county and state auditors and even from a consultant hired by county commissioners to assess the fund's health.

* Th Orange County treasurer invested heavily in interest rate-sensitive securities known as derivatives. As their name suggests, these are securities whose value is tied to, or derived from underlying assets such as bonds.

SAFE's managers steered clear of derivatives but invested heavily in 30-year bonds and other long-term securities whose prices vary wildly in changing markets. Investment consultants hired by Cuyahoga County call such investments "out there in la-la land in terms of risk."

Only a tiny fraction of Orange County's portfolio was devoted to securities with terms longer than five years.

* Cuyahoga County, in an effort to lure investors, guaranteed deposits of all SAFE investors. When the pool collapsed, the county had to shoulder all losses itself.

Orange County, on the other hand, issued no such guarantee and even threatened to assess the full brunt of losses against any investor who pulled out in the days following the collapse earlier this month.

Yet there are similarities, too, between the two pools.

* Both helped doom themselves by not accounting for the falling market value of their holdings. By failing to "mark to market," as the practice is known, they also camouflaged the dangers to investors.

Not marking to market allowed SAFE to report a $37 million gain for the first eight months of the year, when the real figure was closer to a $41 million loss, according to a Plain Dealer analysis.

"As soon as you can hide things, people are going to take advantage of that," said Michael Peskin, who heads a New York investment consulting firm. "It's a dangerous situation and it exists in spades in the public arena."

* Both pools were founded by aging Democratic officeholders — Citron and Cuyahoga County Treasurer Francis E. Gaul — who had forged national reputations by generating high returns on investment of public funds, and sought to stifle any criticism of their operations.

For many years Citron, 69, was the lone elected Democratic official in staunchly conservative Orange County. He held the treasurer's office for 24 years without a serious challenge at election time.

The big returns he historically brought the 185 agencies belonging to the pool made it difficult for critics like Moorlach to make headway against him.

"He was Mr. Investor," Moorlach said. "He was God."

Moorlach succeeded occasionally, however, in convincing someone of the dangers in Citron's management — and was strongly criticized as a result.

That's what happened in April when one of his allies, Tustin City Councilman Jeff Thomas, persuaded his city to withdraw its $4 million from Citron's pool.

"We were vilified," Thomas said. "It was such a laughable amount of money, but we were accused of starting a run."

As concerns increased about the riskiness of the fund, Moorlach's own community, Costa Mesa, winnowed its investment from $17 million to less than $3 million.

"There was a lot of criticism and fairly caustic comment about our position of drawing down our funds," said City Manager Allan Roeder.

Roeder wanted to leave the pool quietly, so as not to trigger a run, but he said Citron's staff wouldn't let him. If Costa Mesa got out, he was told, it was out for good.

"If you won't stay in the pool when the [return] is down, you don't deserve to be with us when the returns are high," Roeder said Citron's staff told him.

Citron himself came down hard on those he perceived as enemies. When he got wind that a local broker solicited business from one of the cities in the pool, he fired off a scathing letter to the man's boss, recommending he be fired.

Like Citron, Gaul, 68, steamrolled everyone who challenged him during his 19 years in county office. He had no trouble winning his party's nomination for Congress this year — a race he lost after SAFE fell apart.

Gaul championed SAFE aggressively and passionately, and recruited with the same vigor. He often went over the heads of finance directors and professional treasurers who were initially reluctant to join the multiagency pool.

"He actually reached out into these communities and browbeat local officials into investing in SAFE," said Lakewood Mayor David Harbarger. "The argument was, if you're not invested in SAFE you're a bum."

When reports of trouble within SAFE surfaced in the fall, Gaul tried to portray them as part of a politically motivated plot to derail his Congressional bid.

And when he learned that Crain's Cleveland Business was preparing a potentially critical report about the fund last spring , a delegation from his office, joined by County Commissioners President Timothy F. Hagan, paid a visit to editors there.

Gaul argued that such an article would scare off SAFE's investors, something he could ill afford at the time because rising interest rates were eating away at the pool's assets, participants said. Gaul later bragged to reporters about getting an expert quoted in the story to recant his damaging evaluation of the fund before the story was printed.

Hagan previously has said he was not trying to intimidate Crain's into softening its story, but he did not return phone calls seeking comment for this article.

Mark Dodash, an editor at Crain's, confirmed that the meeting took place but otherwise declined to comment.

On January 1st, 1995, Fortune Magazine provided its perspective, bringing back up the Chicken Little reference (see MOORLACH UPDATE — HAPPY NEW YEAR! — December 31, 2009).
The January edition of the California Municipal Bond Advisor, prepared under the direction of Publisher Zane B. Mann, made Orange County the entire front-page story and the next three pages. Zane Mann was a go-to expert for other reporters (see MOORLACH UPDATE — SB 50 — April 29, 2019). His piece was titled "The Orange County Fiasco: Virtually All Bonds Still Safe."
The piece was exhaustive and thorough. It's a shame that California Municipal Bond Advisor is no longer published, as a link to Zane Mann's review will be an excellent resource for future researchers on the topic. Kenneth D. Ough is even mentioned. For a little history on this personality and his negative impact on Orange County, see https://www.sec.gov/litigation/admin/33-8141.htm.
Here are a few selected paragraphs from the introduction, body and conclusion:
There will be no wave of defaults of long-term California municipal bonds as a direct result of the financial wreckage left by the bankrupt Orange County Investment pool.

That includes Orange County bonds, debt issued by municipalities within Orange County, and public bonds issued elsewhere in the state. Bonds that were safe, secure and creditworthy before Dec. 1, 1994, are no less safe and secure on Jan. 1, 1995.

The only bondholders who will lose money are those who panicked and foolishly sold into the bond market collapse of Dec. 6, after the Orange county bankruptcy and downgrade announcement.

Selling municipal bonds to gamble on interest rates is not a proper function of the municipal bond market. It never has been.

The actions of Citron and the Orange County supervisors were especially appalling. They sold $600 million of taxable notes in July for the purpose of providing more collateral for the bankers who had previously lent the county some $12 billion. (This sale occurred after the election, during which John Moorlach, a candidate for Citron's job, had exposed the dangerous condition of the fund to both the press and county officials.)

Today, county officials are unable to explain why somebody didn't question if maybe Moorlach was right (especially when the market value of the pool's investments was falling so rapidly that it required a $600 million cash infusion). Despite the obviousness of the problem, county officials continued to recruit more funds for the pool.

Given enough time, Orange County and the local municipalities will have their ratings restored. Maybe not to double-A right away, but Orange County is too rich and too valuable to stay down for very long. Well before your 10-year Orange County bond issues mature, this incident will become a very bad and distant memory.
Commentary: Huntington Beach's pension bond proposal feels like déjà vu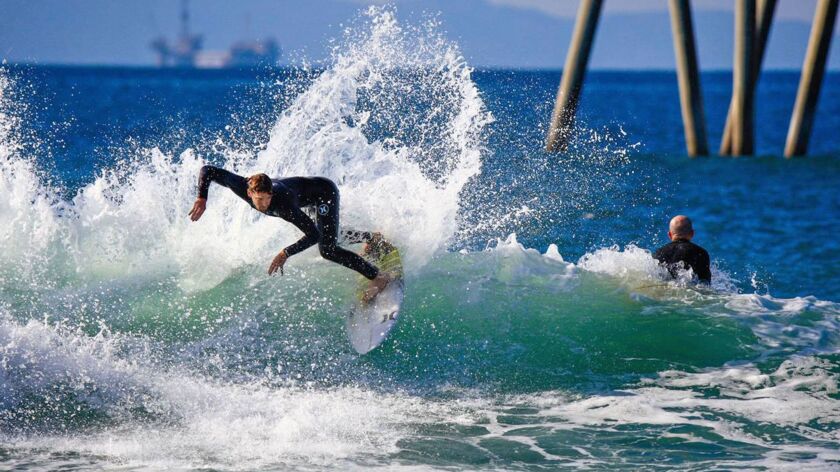 The Huntington Beach City Council's recent approval of a resolution to consider pension bonds could put the city at risk of a fiscal wipeout, two Orange County elected officials write.
(File Photo)
By JOHN MOORLACH, SHARI FREIDENRICH
https://www.latimes.com/socal/daily-pilot/opinion/story/2019-12-31/commentary-huntington-beachs-pension-bond-proposal-feels-like-deja-vu
Surf City is risking a fiscal wipeout if it approves a proposal for pension obligation bonds.
According to the Government Finance Officers Assn., POBs are taxable bonds that state and local governments can use "as part of an overall strategy to fund the unfunded portion of their pension liabilities by creating debt." However, POBs involve considerable investment risk.
The concept is simple. It is like paying off a flexible credit card balance with a 25-year fixed mortgage. However, there is more than the mere switching of lenders.
On Nov. 18, the Huntington Beach City Council adopted a resolution to use POBs "to refund all or a portion" of its unfunded actuarial accrued liability, or UAL, to CalPERS — the California Public Employees' Retirement System. The resolution started a judicial validation process for the POBs.
According to the request for City Council action prepared by Dahle Bulosan, acting chief financial officer, the council's next actions in March or April would "include approval of the preliminary official statement, identifying a not-to-exceed interest rate for the bonds, as well as the underwriting discount."
According to the city's analysis, Huntington Beach is choosing to use POBs because it is being charged an interest rate of 7% to service its UAL debt load.
The annual cost to the city budget due to the UAL rose from $4.58 million in fiscal year 2009 to $24.93 million in 2019. It continues to rise and the city's analysis projects it will double to $46.02 million in 2031.
The city's analysis warns that, to pay for these costs, Huntington Beach will need another $21.09 million a year by 2031. That could mean drastic cuts.
We sympathize. As the Daily Pilot reported in June, the city is still recovering from "recession-related cuts."
Market interest rates are still low. The POB would replace a 7% interest rate with CalPERS, which can be flexible with its annual required contributions. Bondholders would require a maximum interest rate of 3%, requiring a fixed payment schedule. The city could save $8.5 million per year.
On the other hand, the Government Finance Officers Assn. also warns that POBs are very speculative.
In 2012, CalPERS cut its assumed rate of return from 7.75% to 7.5%. CalPERS cut it again in 2016, to 7%.
Warren Buffett recommends using a 6% assumption. Pension expert David Crane of Stanford University says 5% is a more realistic goal for public pensions. In other words, instead of supposedly "saving" 4 percentage points with POBs, Huntington Beach might "save" only 2 percentage points.
In dollar terms, that could mean "saving" $4.25 million a year, instead of $8.5 million.
In addition, making the 7% annual return, with current low inflation and low fixed income yields, means CalPERS is motivated to invest in riskier securities to offset those lower returns in its overall diversified portfolio. With this exposure, if the CalPERS fund were to take a significant market loss, the HB proceeds in the portfolio would suffer the same loss.
Interest payments on the POB debt are not reduced even if the bond proceeds paid into the CalPERS fund have lost value, making this arbitrage strategy a gamble, more so as the equity market is currently at an all-time high.
This scenario is reminiscent of the 1994 Orange County bankruptcy.
Back then, former county treasurer-tax collector Bob Citron used reverse repurchase agreements, a similar arbitrage scheme to POBs, which also "guessed" that short-term interest rates would stay low. As a candidate for office, Moorlach warned in the June 1994 election that this was a dangerous strategy that could bring disaster if short-term interest rates started rising, meaning they inverted.
That is what happened. The rest is a sad chapter in Orange County's history.
Refinancing a debt should be a prudent strategy, but borrowing to invest brings unforeseen risks for losses. Hoping the CalPERS assumed rate of return is not reduced down to 3%, which it should do over the next 25 years, may not be a reasonable forecast to rely on.
In addition, hoping the Dow Jones market does not drop below 28,000 in the next quarter century may reflect a lack of understanding of economic cycles.
Converting a soft debt into a hard debt, with bondholders unwilling to make payment schedule adjustments, may come to haunt POB issuers in the future.
No wonder the GFOA warned that, "In recent years, local jurisdictions across the country have faced increased financial stress as a result of their reliance on POBs."
Surf City needs to avoid a potential wipeout, as a few bad economic waves can ruin its future cash flow.
John Moorlach (R-Costa Mesa) represents the 37th district in the state Senate. Shari Freidenrich is Orange County's treasurer-tax collector.
This e-mail has been sent by California State Senator John M. W. Moorlach, 37th District. If you no longer wish to subscribe, just let me know by responding with a request to do so.