I proposed to my wife 39 years ago at the Five Crowns Restaurant. I'm glad it's still a local, highly regarded establishment and it's always an honor to speak to the Newport Beach Sunrise Rotary Club, which holds its weekly breakfast meetings there.
The Laguna Beach Independent and the Newport Beach Independent were present and impart their perspective in the first piece below. The first photo includes Laura Dietz, who served with me on the California Sesquicentennial Foundation Board many years ago, and is now involved in putting a replica statue of the raising of the flag at Iwo Jima near the entrance of U.S. Marine Corps Station Camp Pendleton.
It has been the busiest year to date in the state Capitol. The number of topics to touch on makes for a long list in addressing the "fun" in Sacramento. And, the piece seems to have covered the major points in my talk. For more on SB 640, see MOORLACH UPDATE — Senate Bills 511, 584, 598, 496 and 640 — April 15, 2019).
For more on my concerns about the fiscal well-being of Orange County's 34 cities, the OC Register provides my submission in the second piece below (also see MOORLACH UPDATE — Happy 130th Birthday, Orange County! — August 1, 2019).
It is fascinating to watch Sacramento enjoying a bumper crop of tax revenues, while many cities, counties and school districts are barely scraping by, thanks to decisions they've made in the past. When Sacramento runs out of cash during a recession, it usually takes it away from cities and counties. Now you'll know which cities to keep an eye on during the next multi-year recession.
P.S. Happy Birthday, Caleb!
Moorlach Talks Mental Health, State finances
By Sara Hall | NB Indy
https://www.lagunabeachindy.com/moorlach-talks-mental-health-state-finances/
https://www.newportbeachindy.com/senator-covers-mental-health-state-finances-at-rotary-meeting/
Sen. John Moorlach chats with residents after speaking at a Newport Beach Sunrise Rotary Club meeting on Tuesday. Photo by Sara Hall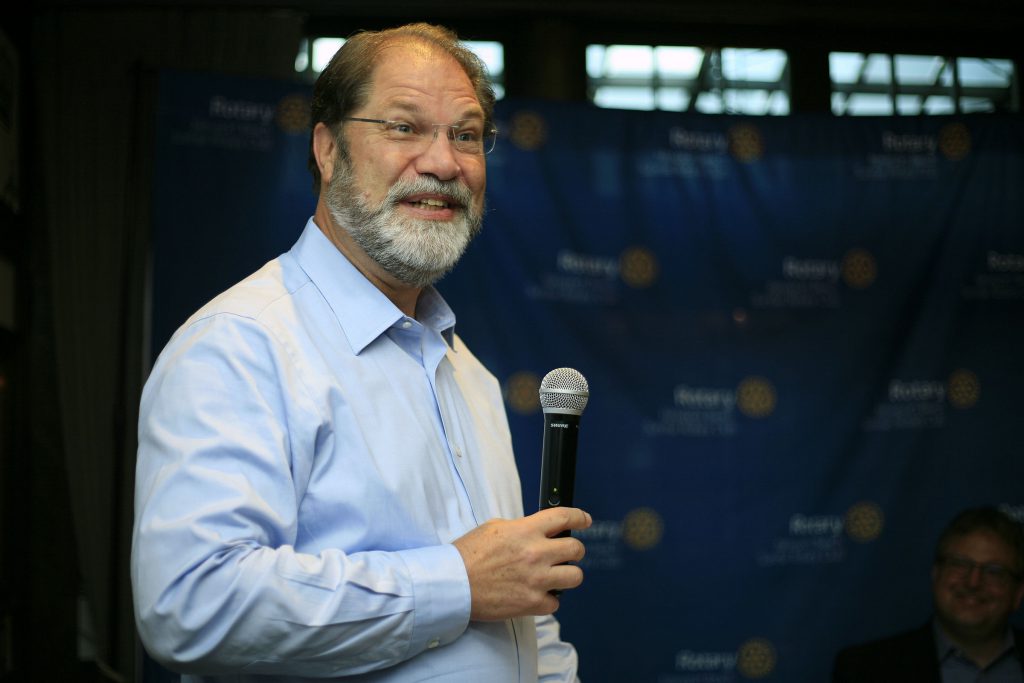 Senator John Moorlach speaks to a crowd at a Newport Beach Sunrise Rotary Club meeting on Tuesday.
— Photo by Sara Hall ©
Mental health and financial concerns were two serious topics Sen. John Moorlach discussed at a breakfast meeting this week, emphasizing the issues in between a few jokes and a mostly lighthearted speech.
Newport Beach Sunrise Rotary Club hosted Moorlach for a report on current events in Orange County and the California state legislature at a Tuesday morning meeting at Five Crowns in Corona del Mar.
Moorlach represents the 37th district, which stretches from Anaheim to Laguna Beach. A former Rotarian himself, Moorlach is a trained Certified Financial Planner and the only trained CPA in the California Senate.
He began public service in 1995, served for 12 years, then was elected to the Orange County Board of Supervisors in 2006, where he served on the OC Transportation Authority and Southern California Regional Airport Authority boards. In March of 2015, Moorlach was elected State Senator for the 37th District.
Moorlach is vice-chair of several committees: Senate Energy, Utilities and Communications; Governance and Finance; and Public Safety. He also sits on Budget and Fiscal Review, Housing, and Insurance committees, as well as several sub-committees.
Moorlach listed several issues he's worked on, including wildfires, PG&E issues, the housing shortage, taxes, poverty, homelessness, mental health, and public safety. Much of the discussion revolved around mental health, a topic Moorlach has been addressing through legislature recently.
This year, he introduced Senate Bill 640 to expand the definition of "gravely disabled." Moorlach said he got the most pushback from hospitals.
Existing law (the Lanterman-Petris-Short Act) provides for the involuntary commitment and treatment of a person who is a danger to themselves or others or who is gravely disabled. In 1967, the LPSA passed, which argued that mentally ill people were not being treated properly by involuntarily admitting them into institutions, Moorlach explained.
"They migrated to the street and then they migrated to the jail," Moorlach said. "So now the largest mental institution in Orange County is the central jail in Santa Ana."
The idea with SB 640 is that maybe there should be involuntary holds, apart from 5150, he added.
SB 640 would modify the definition of "gravely disabled" to be a person that, as a result of a mental health disorder, is incapable of making informed decisions about, or providing for, the person's own basic personal needs for food, clothing, or shelter, without significant supervision and assistance.
It would also clarify that, as a result of being incapable of making these informed decisions, the person is at risk of substantial bodily harm, dangerous worsening of a concomitant serious physical illness, significant psychiatric deterioration, or mismanagement of the person's essential needs that could result in bodily harm.
The bill would authorize this condition to be demonstrated by the person's treatment history and recent acts or omissions. By increasing the level of service required of county mental health departments, this bill would impose a state-mandated local program.
He also joint-authored SB 1004 with democratic Sen. Scott Weiner from San Francisco that deals with prevention and early intervention for kids that have mental health issues early in life.
"I don't need another Newport Beach couple coming into my office saying they lost a child to depression," Moorlach said. "So, we're trying."
The financial state of Orange County and the state was also a focus of discussion during the meeting. Moorlach painted a worrisome picture about the financial future of California. In 2020, split roll will be on the ballot, and there will be a lot of bond measures, he pointed out, questioning how, if passed, they will be paid for.
Until last year, California had the highest unrestricted net deficit in the country, Moorlach said. The state went from $169.5 billion upside down to $213.3 upside down. The only "good news" is that New Jersey is in the hole by about $1 billion more, so "we're 49ers," he joked.
"We've got the worst balance sheet," Moorlach said. "Something's going to snap."
On Monday, Moorlach released his breakdown of the financial state of all 34 cities in Orange County. He reviews each city's Comprehensive Annual Financial Reports and looks at their unrestricted net assets, or net deficit, divided by the population.
"This is like your net worth; it should be a positive number. Regretfully, for a lot of them, most of them, it is a negative number," Moorlach said.
Last year, Newport Beach placed 32nd on the list. But, thanks to an aggressive approach to the unfunded pension liability, Moorlach explained, the city moved up to 30th.
"Which is pretty impressive," he said.
Laguna Beach lands at number three, then Irvine, and the city of Tustin takes the top spot.
FINANCE
Half of O.C. cities are in a positive fiscal position
State Sen. John Moorlach, R-Costa Mesa, looks over a stack of papers as the Senate plows through a variety of bills, Tuesday, Aug. 21, 2018, in Sacramento.
FILE PHOTO: RICH PEDRONCELLI — THE ASSOCIATED PRESS
By John M. W. Moorlach
High net worth individuals are ranked by magazines. Ranking cities by a similar approach now finds the city of Tustin at the top of the list among Orange County's 34 cities.
Compared to the year before, Irvine moved up a notch, to second place from third and Laguna Beach moved from fourth up to third.
Updating my report on OC city finances from last year, half of the 34 city balance sheets in Orange County are still in the black. I base my rankings on each city's Comprehensive Annual Financial Report (CAFR).
The CAFRs are for fiscal years 2017 and 2018, ending on June 30 each year. As audited financial statements, the CAFRs are by far the best resource for analysis of a city, county, school district or state budget.
In each CAFR, I specifically look for the Unrestricted Net Position (UNP) because it reflects the net assets minus the net liabilities. Hopefully, this amount should be positive, as every operating entity should have more assets than debts to pay its creditors.
Then using census data, I divide the UNP by the city's population. The per capitas produce a range with which to compare similar entities and reflects each resident's share of the net assets or net deficit.
The biggest change this year is the inclusion of retiree medical liabilities, as now required by the Government Accounting Standards Board. Some cities started recognizing this unfunded liability a year or so earlier than this year's deadline.
The combined year-over-year change in the UNP for Orange County's 34 cities has reduced their net worth by $631 million in the last year. The overall retiree medical liability inclusion of $469 million represents three-quarters of the cumulative decline.
We should be thankful since there are more dismal balance sheets in other counties. For instance, the Los Angeles Unified School District had to add $15 billion to its liabilities this year for its actuarial accrued retiree medical obligations.
On the flip side the cities of Mission Viejo and Stanton overfunded their contributions for funding toward retiree medical commitments and report the balances as assets. This is unusual, but reflects a proactive posture.
The state of California is enjoying additional personal income tax revenues. But this not a source cities participate in. Cities are watching every dollar, addressing every increase in pension plan contribution requirements and dealing with debt obligations from retiree medical promises made many years ago. Sacramento is not sharing its largess with its 482 cities.
In spite of these pressures, 12 of Orange County's cities have had positive movement, year over year, with their UNPs: Tustin, Irvine, Laguna Beach, Dana Point, Lake Forest, Laguna Woods, Aliso Viejo, Villa Park, San Clemente, Rancho Santa Margarita, Stanton and Huntington Beach.
Such improvement shows positive progress can be made. However, the granting of generous defined benefit pension and retiree medical plans has come home to roost. And their impacts are becoming more transparent and measurable.
The other 22 cities felt the impact of having to now include what are also known as Other Post Employment Benefit (OPEB) liabilities on their balance sheets. Using the city of Anaheim as an example, the retiree medical cost of $138.2 million was 98 percent of its Unrestricted Net Deficit increase of $141 million.
City councils, going forward, must remain keenly aware of their employee bargaining efforts or find themselves continuing to decrease staffing levels.
In times of a growing economy, balance sheets should be going up, not down. Withstanding an economic leveling or decline will be the challenge facing many of Orange County's cities in the months and years to come.
You should be able to do your own research with the CAFRs on the finance pages of your city's website, or you can call the city for a hard copy. John M. W. Moorlach, R-Costa Mesa, represents the 37th District in the California Senate.
THE TEN HIGHEST RANKED
THE TEN LOWEST RANKED
CITIES IN ORANGE COUNTY
CITIES IN ORANGE COUNTY
ON
A PER-CAPITA BA
SIS
ON A PER-CAPITA BASIS
1
Tustin
$1,835
25
Orange
($1,051)
2
Irvine
$1,601
26
Westminster
($1,068)
3
Laguna Beach
$1,540
27
Fullerton
($1,179)
4
Cypress
$1,517
28
Huntington Beach
($1,256)
5
Laguna Niguel
$1,032
29
Fountain Valley
($1,288)
6
Dana Point
$733
30
Newport Beach
($1,374)
7
Lake Forest
$698
31
Santa Ana
($1,482)
8
Laguna Woods
$599
32
Anaheim
($1,545)
9
Aliso Viejo
$564
33
Brea
($1,740)
10
Villa Park
$491
34
Costa Mesa
($1,949)
This e-mail has been sent by California State Senator John M. W. Moorlach, 37th District. If you no longer wish to subscribe, just let me know by responding with a request to do so.