The annual budget bill must be approved by June 15th. That means I'll be in Sacramento next Friday to vote on the one bill that is required every year, according to the California Constitution.
I usually fly home Thursday evenings, but I'm still up here this Friday because I serve on the Budget Conference Committee as one of the two Republican Senators selected for this annual ritual (also see MOORLACH UPDATE — Selected to Serve — May 28, 2018 and http://www.latimes.com/politics/essential/la-pol-ca-essential-politics-may-2018-california-budget-legislature-jerry-brown-differences-1527653231-htmlstory.html). The Conference Committee is a short-term assignment with a lot of responsibility. It reviews three proposed budgets and reconciles the various differences, should they occur, from the recommendations made by the Governor, the Senate and/or the Assembly and crafts one agreed-to, take-it-or-leave-it document for approval by both Chambers.
With the 72-hour rule, under which a bill must be published "in its final form before final passage," logistically, the Budget Conference Committee has to conclude by tonight. Then Legislative Counsel has to work around the clock to assemble the bill in its formal, legal language. And Senate Floor Managers have to prepare the official notification and agenda documents for the proper procedural process to legally vote on this matter. It is a lot of work that goes on in the periphery. But, we've all been in a holding pattern for the last several days, discussing a handful of issues up to now.
The Committee has received the agenda around noon! We have asked for five hours to review, digest and opine on the materials in preparation for the meeting, which will start at 5:30 p.m. For the fifth largest economy on the planet, it has a Banana Republic feel to it. The whispering campaign blames the Assembly Democratic staff, which is in charge of this reconciliation task this year. No one is amused.
Worse, at 9:40 a.m., the Governor issued a press release with the following introduction:
Governor Edmund G. Brown Jr., Senate President pro Tempore Toni Atkins and Assembly Speaker Anthony Rendon today announced that they have reached an agreement on the 2018-19 state budget. The budget agreement makes record investments in schools and universities, creates the state's first online community college, fully fills the Rainy Day Fund, boosts child care and combats homelessness and poverty.
So, would somebody explain why I am even here and why am I voting tonight on this "behind closed doors" agreement?
Maybe I should have worn one of my Mickey Mouse ties today? It may have been a subtle way to communicate how the Democrat majority runs your state. Or maybe I should purchase a tie with mushrooms on it? It may be another way of expressing the joys of being kept in the dark.
I hope to be out of the Capitol by 3 a.m., Saturday morning. Then I board my flight to Orange County at 10 a.m. From there I drive to Long Beach to, hopefully, attend former California Governor George Deukmejian's Memorial Service. And, then it's back to Newport Beach for the annual Wooden Boat Festival. The fun life continues.
So, let's go from local to state to international news. The Newport Beach Independent covers the Wooden Boat Festival in the first piece below. I am a big fan of wooden boats, especially tall ships (see MOORLACH UPDATE — HB Independent — September 15, 2011). I also had the privilege of overseeing the State of California's Sesquicentennial efforts to secure visiting tall ships for this historic commemoration (see MOORLACH UPDATE — California Lawyer — September 8, 2010).
On the state level, the online OC Register provides another piece mentioning SB 1074 in a fascinating editorial submission (see MOORLACH UPDATE — Selected to Serve — May 28, 2018, MOORLACH UPDATE — Worked So Hard — May 19, 2018, and MOORLACH UPDATE — The Joys of Presenting Bills — April 24, 2018).
On the international front, the opening of the United States Embassy in Jerusalem was met with protests from Palestinians who reside in the immediate area, as no other neighboring nation wishes to locate them within their borders. But, human migrations are not pretty. This delicate matter became a major Senate Floor discussion as a result of the vote on a Resolution (which may explain why I rarely do Resolutions).
I am a supporter of Israel. You know my love for Western State Jewish History (see MOORLACH UPDATE — Western States Jewish History — May 25, 2012). As someone whose parents survived Nazi occupation, I am very supportive of Holocaust survivors and bear the sorrow of those who suffered from this tragic genocide (see MOORLACH UPDATE — Remembrance — June 1, 2012).
So I stood up and mentioned my Sesquicentennial experience. Celebrating 150 years as a state of California was not appreciated by our native populations, who suffered from displacement and death from diseases transmitted by the gold seekers. But, history is replete with these tragic events. We live in a broken world with broken people, like Hitler. But, who has time to give a grand history lesson? So, this goy kept it short and sweet. The Mondoweiss provides an editorial piece on this matter from a pro-Palestinian perspective in the third piece below. The actual vote was 37 for, 2 abstaining, and 1 vacancy due to resignation.
Wooden Boat Festival Returns to Newport Harbor
By : Newport Indy Staff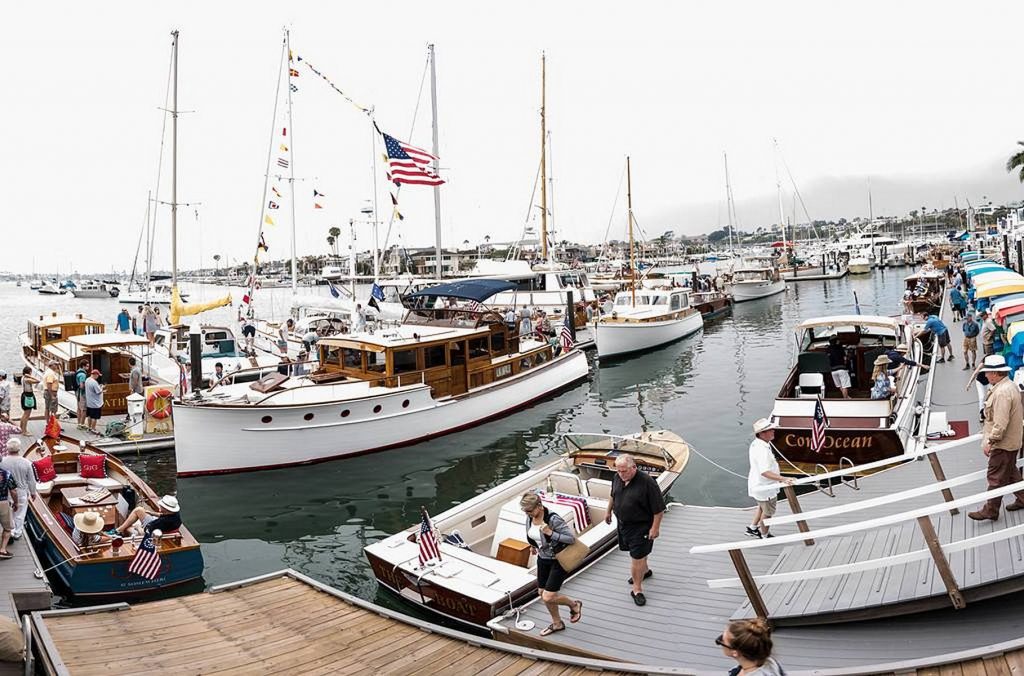 Guests enjoy the annual Newport Beach Wooden Boat Festival, hosted by the Balboa Yacht Club, in 2017.
— Photo by Tom Walker/courtesy BYC
https://www.newportbeachindy.com/wooden-boat-festival-returns-to-newport-harbor/
Seafaring history floats into Newport Harbor this weekend with the return of the annual Newport Beach Wooden Boat Festival, hosted by the Balboa Yacht Club.
Now in its fifth year, it is considered "yachting's equivalent of the Concours d'Elegance," officials proclaimed in a press release.
"So many boats – so many stories," officials wrote.
On Friday, June 8, nearly 50 vessels will begin arriving for the festival, which is open to the public Saturday from 10 a.m. to 5:30 p.m. A closing celebration will be held at 4:30 p.m. Saturday.
On Sunday, the boat parade will begin from Bahia Corinthian Yacht Club at 11 a.m., circling most of Newport Harbor. At 1 p.m., the Heritage Sail-By down the bay will begin near Lido Village.
More than 4,000 visitors are expected to attend this free event, which also offers complimentary shuttle and water taxi service to and from Balboa Yacht Club.
In addition to being able to view and board these wooden treasures, there will be family activities, including toy boat building, live music by the Dave Stephens Band, a presentation by Senator John Moorlach, maritime art and exhibits, food and libations, and a silent auction (including an original painting by famous artist Jim DeWitt).
This year's featured vessel is the Spirit of Dana Point, the 118-foot schooner built as a replica of a 1770s privateer and previously known as Pilgrim of Newport. It started out life in a Costa Mesa backyard and has a rich local history.
Included in this year's Festival is Lady Isabelle, one of the Little Ships Fleet of Dunkirk. In May 1940, she was one of the fleet of private boats that rescued more than 330,000 Allied troops stranded in Dunkirk, France. The story recently appeared in Hollywood's Academy Award winning film "Dunkirk."
Featured for the first time is the 86-foot schooner Astor, built in 1923 by Fife & Sons of Scotland for an Australian surgeon who named her Ada. He sailed her to his native Australia, where she gained sailboat racing notoriety winning the Sydney to Hobart race three times and competing in the TransPacific races. During the last 18 years, she departed Newport Harbor and traveled the world, just returning in 2017.
Then there is also the 50-foot wheelhouse cruiser, Phantom, whose history includes being requisitioned by the U.S. Navy in World War II to protect the Kaiser Shipyards on the Columbia River. After the war, the battleship gray paint was removed, along with the machine gun, and she was returned to her former glory as a luxury yacht.
For more information, visit newportbeachwoodenboatfestival.com.
Look in the mirror for climate change
By RONALD STEIN
https://www.ocregister.com/2018/06/06/look-in-the-mirror-for-climate-change/
Until the first steam locomotives were invented in the early 19th Century, man could travel as far as he could walk or as far as his horse would take him. Life was dirty, smelly, difficult – and short. Life expectancy was short and human misery was assured.
In the decades and centuries after 1900, after the discovery of oil, and the inventions of the automobile and the airplane an airline industry that can take us anywhere in the world consuming 225 million gallons of aviation fuels every day to move almost 10 million passengers and other things every day, a cruise line industry that takes us to all parts of the world consuming 30 to 50 gallons of fuel for every mile, a leisure industry of hotels, resorts, theme parks, and a transportation industry of rail, trucks and automobiles that can deliver products from around the world and take us to virtually any destination. We also have an electronic and aerospace industry that has everyone wired and wireless, and elaborate infrastructures to support the growing populations.
All of those infrastructures did not exist prior to the 1900's and they could not exist without the chemicals and by-products manufactured from crude oil, but the primary economic reason refineries exist is to manufacture the fuels for our military, heating and transportation industries. Interestingly, there are no economic reasons just to manufacture the other "stuff" of chemicals and by-products from crude oil that are the basis of virtually everything in our daily and leisurely lifestyles.
Today, these byproducts of fossil fuels often are forgotten when debating whether or not we should move to a future free of carbon-based energy. But those byproducts are real, and essential to our lives. Yet environmentalist extremists still want to eliminate the main source of their current production.
Surprise! Almost everything we use comes from oil, thus we need to look in the mirror for climate change.
Our leisurely lifestyles are based on transportation systems, sewage treatment, sanitation systems, water purification systems, irrigation, synthetic fertilizers and pesticides, genetically improved crops, agricultural productivity, dams, seawalls, heating, air conditioning, sturdy homes, drained swamps, central power stations, vaccinations, pharmaceuticals, medications, eradication of most diseases, improvements in manufacturing productivity, electronics, communication systems, and so on.
Other benefits from fossil fuel energy include the ever reduction in infant mortality and is the major contributor to the longest life expectancy in history all of which directly impacts our quality of life.
The electric vehicle crusade may have limitations to replace the internal combustion engines as current battery technology for EV's is the lithium-ion battery which is dependent on cobalt for its energy density. Today, there is already a worldwide shortage of Cobalt.
The unintended consequence of too many EV's from the crusade is that a reduction in the need for manufactured fuels may incentivize closures of refineries that are also manufacturing the other "stuff" for our lifestyles and may be inflationary on all those other crude oil products if that is the primary reason for those refineries to exist economically.
So, do we want to go back to pre-petroleum, horse-and-buggy days, without all of our modern "stuff?" Well, that would solve the persistent problem of unfunded liabilities to pay Social Security and public-employee pensions as few would live past 30 years!
Seriously, we don't want to roll back civilization. There are better ways to achieve a cleaner environment for ever-growing populations with an increasing numbers of vehicles. Such ways include continual improvements in the fuel efficiencies of internal combustion engines, EVs and hybrids.
And we need sensible legislation at all levels, such a Senate Bill 1074, by state Sen. John Moorlach, R-Costa Mesa, titled Disclosure of Government Imposed Costs. It would require gas stations to post next to fuel pumps a list of all taxes and regulatory costs of every gallon pumped. It would give consumers more information so they could make better judgments on fuel efficiency, while knowing how to influence the policies of their own government.
Ronald Stein is founder of PTS Staffing Solutions, a technical staffing agency that serves the energy industry.
News & Opinion About Palestine, Israel & the United States

Celebrating in Jerusalem, killing in Gaza, pandering in Sacramento
http://mondoweiss.net/2018/06/celebrating-jerusalem-sacramento/
The May 14 split screen of Israeli and U.S. elites toasting a symbolic embassy opening in Jerusalem while 62 unarmed Palestinian protesters were gunned down by Israeli snipers in Gaza or suffocated by tear gas became an international media meme.
In Sacramento, a third screen could have underlined the stark contrasts even more. At the Capitol, both houses passed resolutions (HR 107, SR 109) congratulating Israel on its anniversary, declaring in the fourth of 12 "Whereas" clauses:
"Israel has much to commemorate and celebrate, most notably that it has established, in its 70 years of existence, the most successful and politically stable democracy in a Middle East that continues to experience great turmoil."
"Great turmoil" indeed. The toll of 120-plus dead and thousands shot, many with permanently disabling leg wounds and amputations, has been condemned as criminal by UN officials and the world's major human rights organizations, including B'Tselem in Israel, which called on soldiers to refuse "flagrantly illegal" orders to shoot civilians. From personal experience in the Israeli army, my educated guess is that a significant number may have heeded that call and were sent away from the "front," silenced by threats of court-martial if they spoke up. Or perhaps the snipers' ranks were simply pre-purged of any who might have moral qualms. The recently disclosed video of two soldiers celebrating after a long-distance "hit" of a Palestinian who posed no threat whatsoever was jarring. Even more so was the military command's response: Criticism of the video's leak, not of the soldiers' behavior.
Whatever the state of mind in the military, it's dispiriting to hear from Israeli friends that for the most part, there is anything but "great turmoil" among Jews inside the country. Protests have been small, as most of the population has swallowed the absurd assertions that one of the strongest, most high-tech equipped militaries in the world had no choice but to open fire on what was mostly a peaceful, family-oriented encampment, with many of the victims shot hundreds of meters from fortified positions behind a triple fence that encages some 2 million; and that otherwise, the desperate Gazans would somehow have overrun Israel and slaughtered its population.
And how about that "successful and politically stable democracy" praised in the Capitol resolutions?
Only one state senator, Bill Monning of Monterey, dared to speak of the reality unfolding 10,000 miles away, decrying "the shooting of over 50 unarmed Palestinians at the wall, protesting a history in their view of discrimination, of occupation and a denial of human rights." Indeed. How complicated should it be to understand that when one national-religious group rules over another that lacks all or most basic rights (depending on where they live), it can't be called a democracy? In the hellhole that Gaza has become after 11 years of suffocating blockade, who can be surprised that well over 100,000 people, most of them the descendants of Palestinians expelled from their homes around Israel's establishment in 1948, would march for their human right, unassailable under international law, to return? Fulfilment of that right may well be complicated by all that has happened since, but do they deserve to be shot for asking?
In the end even Monning voted for the resolution along with 57 of 59 senators; he said that his unease was not over what it actually said. But his surprisingly strong words about the Gaza massacre sparked a 25-minute floor discussion, unusual for such congratulatory measures. In between praising Israel and invoking the Holocaust, several senators at least challenged the wisdom of President Trump's provocative embassy move, and evidenced some discomfort with the day's juxtapositions. For this, it's worth watching the video (find the May 14 "Floor Session," starting at minute 12) of the "debate." (Nausea alert: They made a whole party out of it, having the Israeli consul-general and a slew of Israel lobby people there on the floor as special guests.)
A Republican senator, John Moorlach of Orange County, had an interesting take in his speech supporting the resolution. At one point he referred to the ethnic cleansing/genocide of California's native population and the internment of Japanese Americans. Was he alluding to the similar treatment of Palestinians? Well maybe, in fact. It could be that he's less immersed in and driven by the mythology surrounding Israel's creation and has a clearer view of reality than many Democrats. If so, he seemed to reconcile these crimes with support of Israel by implying that shit happens and we need to move on: "We live in a broken world," he sighed. Interesting, though; perhaps it may lead someone, somewhere, to recognize the similarities and draw different conclusions.
One brave senator publicly abstained (one other was absent): Bob Wieckowski of Fremont (suburban Bay Area), in a short statement, cited the incongruity between the resolution's praise for the fact that "Israel regularly sends humanitarian aid, search and rescue teams, mobile hospitals, and other emergency supplies to help victims of disasters around the world" and the ongoing, human-caused disaster in Gaza.
In the state Assembly, the nearly identical resolution passed without opposition, and 73 of 77 members (there are two vacancies and a suspension due to sexual harassment allegations) jumped on the co-sponsorship bandwagon when it came to the floor. More typically, there was no debate, but at least three members abstained out of discomfort – at least with the timing. (One disclosed this to me in a phone call. The others' decisions were reported by staffers, but none was willing to speak publicly.)
Compared to such resolutions in the past, even minimal dissent felt satisfying. Well, better than nothing, anyway, but still a frustrating testament to the fear so many legislators clearly feel. It came on the heels of regular efforts by human rights advocates to oppose the drumbeat of legislation and resolutions pushed by Israel-aligned organizations in the Legislature, some of which have been more successful:
While a Senate resolution "On anti-Semitism" was rushed through with no opportunity for public input in the closing days of the 2017 session, a similar one in the Assembly was delayed for a committee hearing, then dropped by its author after opponents noted that contained false and dangerous "facts" and included code indicating support for penalizing boycotts of Israel.
California's version of the wave of anti-boycott bills that coursed through statehouses in 2016 passed amid vehement opposition and only after being watered down to pretend it was about discrimination. There is nothing to enforce, but unsurprisingly, it is being cited, quite absurdly at times, in efforts to chill speech critical of Israel. And of course that was its real purpose.
In each of these instances, the introduction of shamefully anti-Palestinian legislation in California, win, lose or in between, provides opportunities to educate and build relationships with lawmakers, their staff and sometimes, media personnel. The same is true in other states and on the federal level. It's a long haul, but in the process, support for Palestinian rights has become an inseparable part of the progressive agenda.
On May 15, a day after the embassy festival, Gaza massacre and Capitol pander, dozens of us stood broadcast our message to rush hour traffic a few blocks away at 16th and J streets in Sacramento, demanding an end to the killing and Palestinian freedom. The ratio of supportive honks and waves to hecklers was noticeably way up compared to past actions.
To me, the trajectory looks positive.
This e-mail has been sent by California State Senator John M. W. Moorlach, 37th District. If you no longer wish to subscribe, just let me know by responding with a request to do so.